Top 10 Christmas movies
10. Nightmare Before Christmas (1993) – This movie is a mix between Halloween and Christmas in the way that Jack Skellington, the main character, steals Christmas. Some find this movie scary, but overall most enjoy watching it and are happy when it comes on around the holiday season.
9. The Santa Clause (1994)  – After accidentally killing Santa and putting on his suit, Scott, a dad, slowly becomes Santa as he gains weight and grows a snow white beard. It is likable, but definitely not a favorite. It's a decent movie. This is enjoyable when it's on, but other movies are preferred.
8. Rudolph The Red Nosed Reindeer (1964) – Rudolph goes on an adventure after encountering the abominable snowman. While the younger audience may not be a fan of really old movies, this one is an exception. This movie makes you wanna bump to the song after watching it every time.
7. National Lampoon's Christmas Vacation (1989) – After getting their Christmas tree the Griswold family Christmas faces a series of wild events. A lot of people would've had this higher but it's not all that to me. Have to respect the fact that it isn't an all-time classic.
6. Charlie Brown Christmas (1965) – To get into the holiday spirit, Charlie Brown directs a Christmas play, but forgets about a Christmas tree. During the grade school days, the teacher rolled out that big TV and turned on Charlie Brown Christmas. This is an absolute masterpiece.
5. A Christmas Story (1983) – And sneaking into the top five is "A Christmas Story." While dealing with a bully and his cranky father, Ralphie just wants a BB gun, specifically The Red Ryder BB gun, for Christmas. There are so many classic parts in this movie.
4. Polar Express (2004) – After not believing in Santa, a little boy takes a journey to the North Pole on a train. This movie is a hit or miss for everyone. The characters and plots are the reason it is in the top five. 
3. How The Grinch Stole Christmas (2000) – Pick whatever version you want of How the Grinch Stole Christmas, but the story remains the same of the Grinch who wants to take revenge on Whoville by stealing their Christmas. An amazing movie and definitely one of the most watched Christmas movies. Most are huge fans of The Grinch.
2. Home Alone (1990) – After misbehaving the night before a family trip, Kevin wakes up to an empty house and is left to deal with burglars. This movie is one that continues to be funny every year. 
1. Elf (2003) – When an elf, Buddy, realizes he's a human and has a father in New York City, he takes the trip to find him. A fantastic Christmas movie that's worth watching every year, and will still make you laugh every time.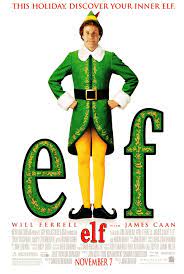 Donate to The Warrior Word
Your donation will support the student journalists of Sterling High School. Your contribution will allow us to purchase equipment and cover our annual website hosting costs.