Entertainment Review: Fetch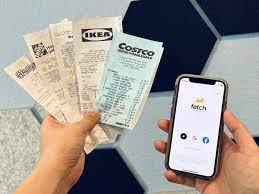 People are always looking for a way to save money and there are a lot of apps out there that people use to save money on a daily basis. 
  In my opinion, Fetch is the best way to get money back from previous purchases that you have made. Fetch is an app where you can scan previous receipts that you have gotten and earn points from doing so. 
  Usually each recipe you scan earns you 25 points. If you scan a recipe that has any of the following brands or items that are listed in the app, you can earn more points. The following brands include, Downy, Dove, Noxzema, Mountain Dew and many more. 
  By sending referral codes to your friends, you can earn 2000 points. For every 1000 points you have, equals to 1 dollar. 
  You can rack up points very easily that way. Otherwise just scanning points may take some time. You're probably wondering how the points work. Once you get to a certain amount of points you can go into the rewards category in the app.
 In the rewards category you can find hundreds of different gift cards that you can get. Usually each gift card is worth the following amount of points. 
6500 points = $10 gift card 
12500 points – $10 gift card 
28000 points – $25 gift card 
  Every gift card may vary in the amount of points that you need. From my experience, I have transferred 15000 points already and earned multiple gift cards doing so. Fetch is a very easy app to use on a daily basis. Other apps may be more complex and difficult. 
  One last detail to include about Fetch is that you are limited to scanning 35 receipts a week. I have run into this problem multiple times. This is the only downside about this app. Besides the cons, this is a great way to earn rewards and earn gift cards. 
Donate to The Warrior Word
Your donation will support the student journalists of Sterling High School. Your contribution will allow us to purchase equipment and cover our annual website hosting costs.