April Students of the Month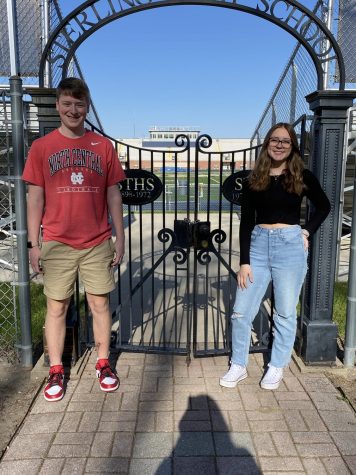 At Sterling High School, student of the month is the most rewarding honor to achieve. Students apply, and one girl and one boy each from the senior and freshman grades are chosen. Students are chosen based upon academic achievement, participation in extracurricular activities and athletics, and their involvement in the S.H.S community. The students of the month for April were seniors Cameron O'Brien and Alecia Garcia.
  O'Brien was chosen based upon his performance throughout high school and showing perseverance throughout all the AP and Accelerated classes he has taken. O'Brien has a 4.128 GPA and took Accelerated English 1, Accelerated Biology, Accelerated Geometry, Accelerated World History, AcceleratedAlgebra 2, AcceleratedEnglish 2, Accelerated Chem, AP Human Geography, AP Chemistry, AP U.S. History, AP Language and Composition, AP Stats, and AP Calculus. Along with pushing himself through many tough classes, O'Brien is a part of National Honor Society and Noon Rotary Club. 
  Outside of school, O'Brien works at a golf course and was a team captain of this year's golf team, along with helping out his elderly neighbor with yard work. His hobbies include golf and playing basketball. In the future, O'Brien plans to attend a four year university and pursue a degree in sports management and become an athletic director. With all that being said, he believed he was selected as S.H.S. student of the month because people portray him as a leader in and outside of the classroom. Along with that, people can count on him to get the job done on time and efficiently. 
  Alecia Garcia was also chosen based upon her strong academic performance and character. Alecia has a 4.05 GPA and has participated in difficult classes such as AP Human Geography, AP Literature and Composition, AP Chemistry, AP Literature, AP Psychology, Accelerated World History, Accelerated English 1, Accelerated Biology, Accelerated Geometry, Accelerated English 2, Accelerated Chemistry, and Accelerated Algebra 2. With these classes, Garcia is a part of National Honor Society and has been recognised by the rotary and awarded 2 academic letters. 
  Outside of the classroom, Garcia volunteers for Sterling Little League, the Christmas walk, Fiesta Days, and the Rock Falls Christmas walk. She enjoys spending time at her family cabin, driving, seeing her friends, being at all extracurricular activities, and working. Her future plans include attending a four year university with a major in dental hygiene and/or criminology. She believed she deserved student of the month because she has been a student at S.H.S. who has pushed herself, and believes she has done well. She has steadily maintained her 4.0 and straight A's while taking many AP and Accelerated classes. She is believed to be a kind, trustworthy, and generous person. 
  Both students are very deserving of the Student of the Month award and represent S.H.S. well. 
Donate to The Warrior Word
Your donation will support the student journalists of Sterling High School. Your contribution will allow us to purchase equipment and cover our annual website hosting costs.