CEO students participate in trade show
May 18, 2023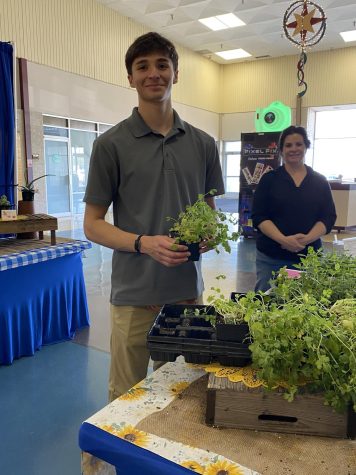 The annual CEO trade show took place at the Northland Mall in Sterling, Illinois, and was a crowd-pleasing event as usual. The much-loved event allowed high school students the chance to display their products that they created. Many people love to look around at all the students' creations and get the chance to buy and support the students.
  Senior Olivia Turner, junior Miles Nawrocki, junior Josh Greenfeild, and junior Ben Munoz-Ripley showed off their businesses and products. This took much preparation from these students and hard work. 
  Junior Miles Nawrocki said, "I first had to get a food permit before I could do anything. Then I started ordering supplies. After a few tweaks of the recipe and a few nights I had all my drinks."
  Nawrocki offered natural energy drinks and had much success, selling out completely.
  The CEO class spends much of the year visiting businesses and surveying business owners.  There is way more to the class and tradeshow than just making products, standing in the mall, and selling them. It takes a lot of trial and error to perfect their products. 
  Students who sell food have to get a food license, as Nawrocki did, perfect the recipe, and keep trying to improve their product. Then, students must push out your information and make people want to buy your product. 
  Junior Josh Greenfeild stated, "Planning ahead and using my resources are what prepared me the most for this event. Making a checklist and using many connections to help cross it off helped me make a successful business." 
  But that didn't get to our business owners from S.H.S. Our sellers were quite successful in their business endeavors this year.
  This helps the CEO members prepare for future businesses and being an entrepreneur, which means these kids can further pursue their businesses if they choose.
  It was an exciting time for these business owners and we wish them much success with their future endeavors.