S.H.S. prepares for Farmapalooza 2023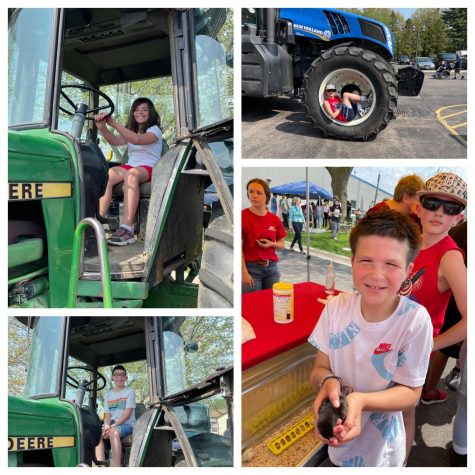 Farmapalooza is an event that welcomes all Sterling schools, their students, and others in the community.
  This is a great way to introduce students to agriculture-related topics. This event will be hosted Thursday, May 11, from 8:00 a.m.-1:00 p.m. in the S.H.S. Fieldhouse parking lot. 
  There are many activity tables including plant propagation, grain farming, beef cattle, goats, poultry, engine operation and maintenance, forestry and excavating, woodworking, hunting, farm safety, construction, fishing and more! Ag participants choose which booth they'd like to share information about. 
  Junior Ryan Schryver says, "I enjoy participating in this activity because I get to be outside all day and see all of the little kids interested in all the things that are there. My booth is hunting and fishing, and I chose that because it's what I love to do in my free time and I like to talk about it."
  There will be farm machinery anywhere from antiques to four-wheel drive tractors. Attendees will be able to get on the tractors and see how they work. 
  Additionally many animals will be there for people to hold and touch such as ducks, chickens, ponies, rabbits, calves, pigs, lambs, goats, and tortoises. 
  Something new this year for Farmapalooza is the opening of the S.H.S. greenhouse for the Spring Plant Sale, which is open to anyone and everyone to purchase if willing.
   S.H.S. Principal Jason Austin said, "I am very excited to look and purchase some plants this year." They're offering annuals, perennials, vegetables, herbs & hanging baskets. 
  Shelby Rae's will also be on site selling Italian ice and custard. Ms. Stanley's horticulture classroom planted many plants that are being sold in the greenhouse. 
  To be able to help out, students had to attend all Farmapalooza meetings with agriculture teacher Jacqueline Walters. 
  Junior Brady Shank said, "I like to participate because it allows me to meet new people within the community, and it's nice to see kids and the community members get exposed to the agricultural world". 
  Farmapalooza is an event that celebrates agriculture and the rural way of life. It's a great opportunity to learn about where our food comes from and to see some of the animals that live on farms up close. By attending, you're supporting local agriculture and the farmers who work hard to provide us with fresh, healthy food.
Donate to The Warrior Word
Your donation will support the student journalists of Sterling High School. Your contribution will allow us to purchase equipment and cover our annual website hosting costs.