S.H.S. preps for musical
 If you are looking for something to do the weekend of February 24 to 26, you should come to Sterling High School and watch the winter musical.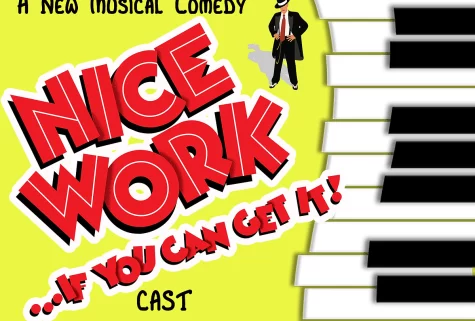 This year S.H.S. is putting on the musical "Nice Work If You Can Get It." The show takes place in Long Island, New York, in the 1920s when alcohol was illegal. 
  The musical first opened on April 24, 2012, in the Imperial Theatre. The show played for a total of 478 performances, with the last show taking place on June 15, 2013.
 The show starts out in an illegal speakeasy with the girls dancing everywhere and everyone  "drinking." The story involves a rich man named Jimmy Winters who meets a female bootlegger named Billie Bendex the weekend of his wedding after drinking all night. 
  Jimmy is set to marry Eileen Evergreen the next day. Jimmy has a habit of marrying chorus girls, but needs to settle down with a respectable woman before his mother will hand over the family business.
 The full show from start to finish not including intermission is two hours long. The music and lyrics for the show are by George and Ira Gershwin. The book for the show was written by Joe DiPietro. 
  The show was directed and choreographed by Kathleen Marshall.  The show has 10 main leads. Jimmy Winters played by Cole Stumpenhorst, Billie Bendex played by Emma Stroup, Eileen Evergreen played by Kiara Olinger, Cookie McGee played by Henry Oberg, Duke Mahoney played by Ben Boze, Duchess Estonia Dulworth played by Anna Hutchison, Jeannie Muldoon played by Brinley Francis, Senator Max Evergreen played by Owen Gaffey, Chief Berry played by Ashton Stange, and Millicent Winter played by Kaidence Stroup. The show also includes nine chorus girls, nine vice squad members, and nine ensemble members.
 This musical is something like never before. Come out and support your peers on February 24, 25, and 26.  
Donate to The Warrior Word
Your donation will support the student journalists of Sterling High School. Your contribution will allow us to purchase equipment and cover our annual website hosting costs.