S.H.S. door decorating contest
  Every year, SHS student council provides a friendly competition for the whole school to participate in. The holiday door decorating contest has been going on since 2016, with only a year off in 2020 due to the hybrid learning schedule during the height of the pandemic.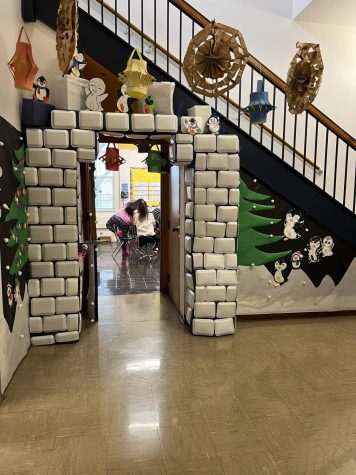 Retired teacher and former student council advisor Laura Miller and her student council members started this fun annual tradition with the purpose of bringing joy and holiday spirit to S.H.S. These final weeks of the first semester leading up to finals can be very busy and stressful. 
  Current student council co-advisor Nicole Schlemmer explains, "This contest provides students with a creative outlet and fun doors to look at while walking the halls of SHS."
  The students are given a week to come up with their favorite christmas door design. There is a lot of hard work involved in decorating these doors all week, and the students are very excited to show what they have worked on for the past week. The following week, all students can vote on which door is their favorite. 
  This year's winner was Life Skills teacher Jenny Malooly's class (by the library). The classes' door took six hours total to complete, and most of the work was done in the classroom, then put up outside the door. The students picked the design from a few options that were scouted out on pinterest, but they wanted to add their own twist to it with the hanging snowflakes, lanterns, and the projecting igloo doorway.
  The students came up with many different ideas to add to the original design. 
  Teacher Jenny Malooly joyfully says, "They were so excited and loved the competition." 
  The students were very excited to win, but they thought everyone did a wonderful job on their door that they decorated. Mostly, they loved sharing their art and spirit with the school.
  There are always some really creative designs each year. Some memorable designs include librarian Heather Johnson's Polar Express in 2016, science teacher Steve Johnson's "chemis-tree" from 2016, and a gigantic Grinch and Minion in the fieldhouse.
  The district office always provides a wondrous display each year as well and Malooly's classroom over by the library has created some really magnificent displays over the last few years.
  Many students participated in this contest to win a prize of their choice. This brought fierce competitiveness from the students throughout S.H.S. Showing kindness to the contest winners really shows how friendly the students and staff of S.H.S can be. 
Donate to The Warrior Word
Your donation will support the student journalists of Sterling High School. Your contribution will allow us to purchase equipment and cover our annual website hosting costs.