2023 Trend Predictions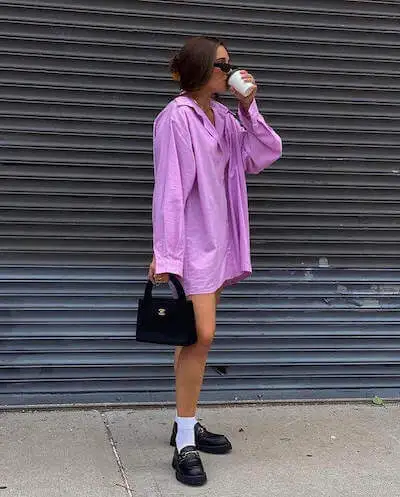 With the end of 2022 coming up and the start of 2023, new trends will begin to pop up. The power of social media plays a big role in the new and up and coming trends of this generation. 
  Slouched, oversized outfits Oversized outfits have been a huge trend for a while. Next year the hype is predicted to grow. Whether you enjoy wearing oversized sweatpants and a large sweatshirt, or mom jeans and a loose sweater, 2023 is going to be the year to wear it. 
  Mini Skirts Skirts are not super popular with the current generation, but miniskirts are a different story. Many young people have been dressing with an early 2000s vibe and miniskirts are a perfect match for this style. If you like the Y2K style, miniskirts will really up your look for 2023.  
Lace Lace has become super popular for young men and women on the runways for 2023. Celebrity and singer Harry Styles used lace in some of his outfits for his "Love on Tour," which really hyped up the trend for lace next year. Female celebrities wearing lace lingerie as an everyday outfit has become popular for the younger generation.
  Denim Denim has and will always be a trend. This upcoming year you will see different styles and colors of denim. The fall and winter months are going to be the most popular time to wear denim. It is not just jeans; overalls and jean jackets are up and coming next year as well.
  Lavender Lavender was named the color of 2023 and for a good reason. You will be seeing lavender in shirts, dresses, and even shoes. It has become a very popular color for younger people and has been seen on the runway quite a lot for 2023 fashion.
  Senior Katie Dittmar said, "I personally love lavender because I'm super into pastel colors. You can never go wrong with shades of purple and I don't think it'll die off next year as a trend." 
  Senior Aubri Menchaca shared, "Personally I'm not opposed to oversized outfits if worn correctly, but they always have to be worn to the right occasion. I think the trend will continue next year BUT tighter clothes are making a comeback and I don't think oversized fits will be as popular as they are now."
  The new year is always exciting for many and it will be even better with new superior trends then the year prior.   
Donate to The Warrior Word
Your donation will support the student journalists of Sterling High School. Your contribution will allow us to purchase equipment and cover our annual website hosting costs.