February Students of the Month
  Throughout schooling, students work hard to do their very best. Senior year is a time where these hard working students can be honored and recognized for their achievements. Student of the Month is a wonderful way to show off how amazing Sterling High School students are. For the month of February, Sarah Navarro and Andrew Doughty have been picked for being the students of the month. 
  With a GPA of 3.9, Navarro has challenged herself with many courses. For example, she has taken AP Statistics, AP Biology and Chemistry, AP United States History and many more. She has been on the honor roll, a member of National Honor Society, a Rotary Scholar, and passed many of her AP exams.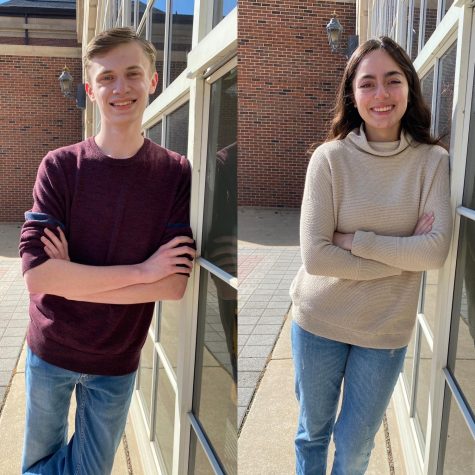 Throughout her high school career, she has participated in many sports and clubs. She is a part of the Latino Club, Student Council, National Honor Society, Key Club, track, and cross country. Navarro has received many awards for being a participant in these activities. She has received varsity track and cross country athlete award, hustle award, and great teammate award. Additionally, Navarro was the secretary of Key Club during her junior year. Then during her senior year, she became the president of Key Club. She is also a senior class officer in the student council. 
  While being a member of many clubs and sports, she also spends time volunteering and working in the community. Sarah has volunteered at homeless shelters and done concessions for schooling events. She will continue to volunteer through Key Club. 
  Sarah Navarro enjoys running, hiking, taking care of her plants, drawing, painting, and politics. 
  She plans to become an environmental lawyer, but is undecided on what school she will attend. 
While achieving a 4.1 GPA, Andrew Doughty has taken some tough courses throughout his high school career. He has taken many accelerated classes with a mixture of five different AP courses. He received Student of the Month during his freshman year, Rotary Student Excellence, and an academic letter and pin for bowling. 
  Doughty has been an active and proud member of many different activities at S.H.S. He is a part of chamber and madrigals, marching band and concert band, boys varsity bowling team, library club, and many spring and summer musicals. He is honored to be a part of the National Honor Society. 
  While being a hard worker in school, he also works hard to volunteer and work in the community. He volunteers at the Unite Service Project, donated crocheted afghans that he made to the CGH Comfort Care Program, helped paint houses and stain decks at LOMC Camp, and is a VBS Crew Leader. 
  Doughty enjoys reading, bowling, knitting, and crocheting in his free time. He does have a part-time job at the Sterling Public Library.
  In the future, he plans to attend a four-year college and receive a bachelor's degree in English education. Eventually he wants to teach English at the middle school or high school level. 
  There are many hard working students throughout Sterling High School. Receiving Student of the Month is just one way to award these students. Congrats to Andrew Doughty and Sarah Navarro for being February's Students of the Month. 
Donate to The Warrior Word
Your donation will support the student journalists of Sterling High School. Your contribution will allow us to purchase equipment and cover our annual website hosting costs.