Fashion Review: Staying on trend with the latest styles
  Throughout generations, fashion has always been an outlet of expression. Society is constantly moving from trend to trend: baggy to tight, making a statement to becoming a minimalist, big to small, etc. 
  Like other generations and maybe even more so, Gen Z is notorious for bringing back old trends. While Gen Z certainly tried to create their own new style with the iconic 2000's style, they are notorious for taking bits and pieces from other generations to create a masterpiece of their own. 
  Shoes have always been an important component to an outfit but the focus on footwear has grown recently. Whether one wants a timeless piece like Jordans or a rework of classic styles like Converse or Doc Martens, there is a shoe to make one's outfit perfect. Social studies teacher Taylor Jackson reminisces on "a pair of Doc Martens I thought were pretty cool."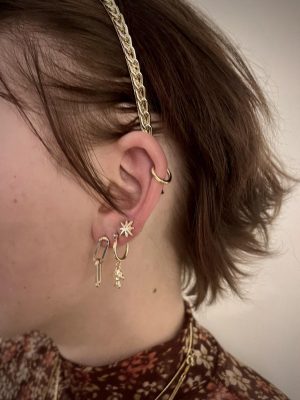 While women and men's fashion certainly have their differences, they share one trending aspect: rings. The trend is finding its way and unlike other jewelry trends, rings can go any way one wants. One can mix metals, jewels, sizes and amounts. Whether one wears only a few rings, covers their hands in them, or wears them in the ears, their portrayed sense of style is beyond chic. 
  An arising trend in men's fashion is the chain. When walking down the halls one will see chain after chain. S.H.S History teacher Dan Paufve recalls in high school he "was just trying to fly under the radar as much as possible and hope no one was looking at me, so nothing too crazy, maybe a shell necklace here or there." This necklace walked so the chain could run. The rising trend is a more minimalistic take on men's jewelry with the perfect way to sport this trend being a one-toned metal, thin, and barely noticeable piece.  
  The most iconic style for women coming into play is by far tiny paired with baggy. Whether it is a tiny top with baggy pants or the opposite, this trend had its birth on the runway at the Louis Vuitton and Chanel shows at Fashion Week 2021 in Paris. Before long, the style was spreading all over the world.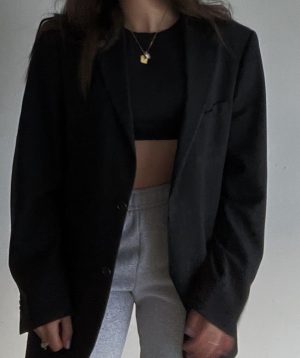 Going along with the classic tiny, tight top, the oversized blazer has begun making its debut. This combination is often found in designer street fashion and is making its name through Pinterest-inspired outfits. 
  Style is constantly evolving and finding new ways to combine elements. S.H.S math teacher Alex Rappe points out "the transition to wearing clothes that either are/or look thrifted. Whether they are clothes from the 80s/90s or are designed to look like that, the trend is heading towards wearing more neutral colors and less bold and bright colors.".
  In fashion no matter how new the trend is, one can always find bits and pieces of an old trend within a new one.
Donate to The Warrior Word
Your donation will support the student journalists of Sterling High School. Your contribution will allow us to purchase equipment and cover our annual website hosting costs.