A slightly sarcastic guide to gift buying this season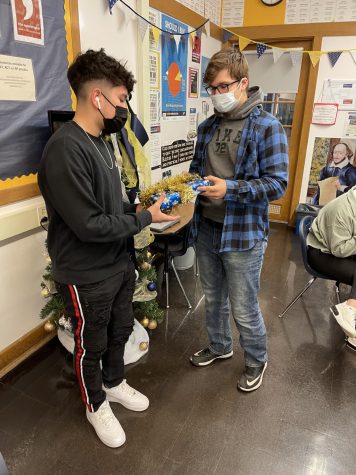 There is no doubt this year is flying by, which means Christmas is upon us. If you are anything like everyone else during the holiday season, you're frantically looking for gifts.
  Gifts are a big deal during this joyful season and it may be more than the thought that counts this year. It's time to get creative. 
  Instead of giving your mom the same thing as last year, you should get her something thoughtful like a necklace with her kids' initials. If you are feeling especially generous, you can even include your rotten brother.
   We all know your dad is getting tired of golf balls and grilling utensils, so think of his other hobbies. Maybe consider getting him something that will allow him to actually spend time with your mom. 
  As for your brother, although all he does is play video games, this year instead of games consider purchasing him a brand new Nikes that you'll know he loves. Then maybe he will throw away his awful Crocs.
  Don't forget your sister, who would appreciate anything Bath & Body Works related, unlike the ugly clothes you got her last year. Pick out a scent you don't mind smelling for the next six months.
  For your sweet grandmother, get her that homemade gift, but avoid doing the same for your grandfather unless you want the honest truth. 
  With all of this gift giving, you can't forget about your friends. Avoid the cliché and stay away from friendship bracelets for any of your closest friends; gift cards to your favorite restaurants and a comfy blanket will do. 
  If you want to impress your crush, put in the effort to bake them the cutest Christmas cookies they have ever seen along with a cute homemade card. If your person doesn't appreciate this thoughtful gift, it's probably time to dump him or her. 
  For the people that you don't like, gifts like socks, candy, and clothes are something easy to just grab and wrap. Also, it doesn't really matter if they like your present since you don't really like those people anyway.
  In the never-ending gift buying during the holiday season, we wish you the best of luck when looking for the perfect gift for everyone on your list.
Donate to The Warrior Word
Your donation will support the student journalists of Sterling High School. Your contribution will allow us to purchase equipment and cover our annual website hosting costs.