What freshmen should be doing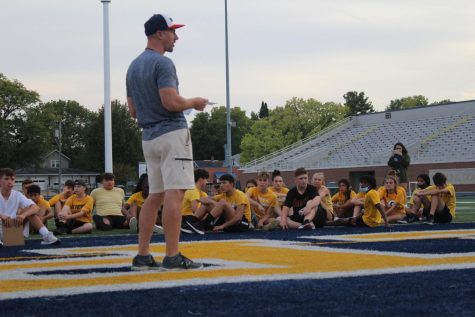 As a freshman going into high school, being nervous is normal. While you have many years to figure out your life, beginning high school and being a part of many different extracurriculars and creating beneficial habits will help figure out what your future will consist of. 
  Sterling High School has many different clubs and activities to join so finding where to start can be difficult. One of the best things to do is relax and consider clubs, or even other classes that sound fun. 
  Another key part of being a freshman is adjusting to the homework load that comes with being in high school. Starting good study habits and homework habits in the beginning of high school is beneficial to all. Grades may not seem important, but they will represent your work ethic in the future. 
  Within recent years, Sterling High School has started a program for freshmen. This program is called Warrior Way. This program is put in place for all freshmen to start on the right track. In Warrior Way, students are required to stay after school for about an hour to work on homework. The teachers in these classrooms are there to support and answer any questions the students may have. 
  Senior Carter Ryan said, "Warrior Way was beneficial to me because it helped me settle into highschool."  
   There are fun classes and clubs to get into that will help figure out future plans. These classes include topics about agriculture, foods, computer programming, etc. There are many clubs for you to participate in such as  student council, robotics, library club, Key Club, and many more. 
  Another thing is we have a lot of different people and everyone is different so don't be quick to assume something about someone, try to talk to different people.  It can be very beneficial to talk to the teachers or even peers, especially if you don't understand something or even just need to talk in general.  Don't be too scared to ask and try new things, that's the best part of high school. 
  Senior Kayden Loos stated, "I met more people, which included different friend groups as high school went on."
     As a freshman there is a lot to do, just remember everything counts and always try your best. High school is made of memories, so don't forget to have fun!  
Donate to The Warrior Word
Your donation will support the student journalists of Sterling High School. Your contribution will allow us to purchase equipment and cover our annual website hosting costs.