Give your room a spring touch-up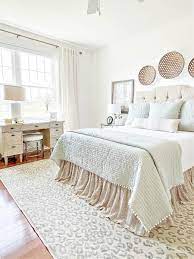 Spring brings about changes in weather and changes in attire; the only thing left is your room! There is no better way to magnify the change in season than bringing it into your own living space. 
  A good way to start this process is by picking a new color theme. Bright colors reflect sunlight, bringing your room a more energetic feel with natural light. A range of pastels could be your solution to a more subtle inclination of diversity in your room. If you are not looking for a colorful look, earth tones may be more your speed. A range of browns, greens, or blues, with small accents of pink or yellow could be the perfect path for you. 
  You may be interested in incorporating more intricate patterns and designs into your decorating. Things like geometric, marble, floral, or botanical designs. Once you've established your theme, you can reflect it with a new bedspread, pillows, curtains, furniture, and wall decorations. You could even redo the color of your walls if you want a more extravagant change. 
  Another suggestion is to actually bring a little piece of spring inside your room. This time of year holds the perfect conditions to start growing a plant, or purchasing one as there are many options. Lavenders provide a light purple accent to your room, while also filling it with a natural and relaxing scent. Succulents come in a variety of greens, blues, purples, and pinks which are perfect for spring. 
  Along with cacti, succulents require only occasional watering, direct sun and very little attention overall. If you want a small cluster of flowers, pansies come in many different, vibrant colors. For those looking for something more neutral, pansies also come in white or white with black centers, providing a more elegant, subtle look. 
  Lighting can have a very important role in mood, so consider adding some type of extension to your regular overhead lighting. This could be a simple reading lamp or something like fairy lights, which add a subtle sprinkle of brightness. Sunset lamps give a warm, yellow-orange shade to rooms that can't capture that sort of natural light. LED lights going around your room have been very popular, allowing you to control what vibrant color covers your room on a whim. 
  Renovating isn't only about adding new things, but getting rid of old things as well. To many, spring invokes colorful, fresh, clean, and natural feelings. Ridding yourself of old, unwanted, objects can help you achieve a fresh-feeling room, and make more space to fit in new things. Rearranging your preexisting furniture could have just as big of an impact as well. 
  After you've made some space, consider adding candles in floral or citrus scents to help mimic the relaxing environment of spring. With the end of the school year being so close, you could use the extra time to explore yourself in a more artistic manner. You can make drawings, paintings, work with clay, and even use your room as your own gallery. What you put on your walls has a greater impact than you think. You would be surprised how much of an effect placing images of areas around the world can have in your room, as well as your mindset. Try placing travel photos of places you want to go, places you've been, and interesting scenery. 
   Something else to consider: adding woven patterns. This could be through baskets, blankets, clothes. Maybe a rug is the finishing touch that your spring-themed room needs. Rearranging your preexisting furniture could have just as big of an impact on the feelings your room invokes. 
  Your mood is largely connected to your environment. You will see big improvements following just a few of these tips. I hope these suggestions inspired you to go all out, express yourself, and have fun with your room.
Leave a Comment
Donate to The Warrior Word
Your donation will support the student journalists of Sterling High School. Your contribution will allow us to purchase equipment and cover our annual website hosting costs.