Top 10 Christmas Scents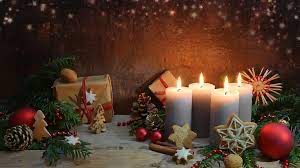 The coldest months are finally upon us and it's the perfect time to fill your house with only the best christmas scents. 
1. Vanilla   
 Vanilla is a classic scent that is dear and cozy. Because of how light it is, it easily uplifts the Christmas spirit. 
2. Pine
The most iconic holiday decoration is the pine tree, also known as the "Christmas Tree." It gives off the most refreshing scent reminiscent of a white Christmas.
3. Cozy Fire 
There's nothing like curling up by the fire to keep you warm from the cold winter nights. Gathering around the fire with your family and appreciating the warmth the fire brings is unmatched. 
4. Cinnamon 
Spicy and warming, the cinnamon scented candle is a holiday favorite that really cheers you up!
5. Gingerbread 
Nothing smells more like Christmas than some freshly baked gingerbread cookies. With it having a little bit of a sweet and spicy scent, it'll take you back to your childhood. 
6. Peppermint 
Something a little more bold and jolly, peppermint is often associated with candy canes and a great christmas. For the liveliness and anticipation the holidays bring, the peppermint scent is the way to go. 
7. Hot Chocolate 
Hot chocolate takes us back to our childhood when we would run inside after playing to enjoy a sweet cup of hot chocolate. Hot chocolate is genuinely a scent that makes us happy and feel delightful. 
8. Roasted Chestnuts 
A scent that instantly catches one's attention. This is a scent that brings you in and reminds you Christmas is truly here. 
9. Baked Goods 
The baked goods candle has an iconic scent that truly brings Christmas along with it. 
With creamy vanilla, butter, cinnamon, and sugar, it genuinely smells like you're baking some of the most delicious cookies ever. 
10. Snow 
When the snow first falls, it always smells the best. The righteous and simple scent reminds us that Christmas is right around the corner. 
  Christmas scents are a popular way to add a festive touch to your home during the holiday season. They can help create a warm and cozy atmosphere, and can also bring back memories of past Christmases. Overall, incorporating Christmas scents into your holiday decor is a simple and enjoyable way to celebrate the season and get into the holiday spirit.
Donate to The Warrior Word
Your donation will support the student journalists of Sterling High School. Your contribution will allow us to purchase equipment and cover our annual website hosting costs.