Activities to do for Thanksgiving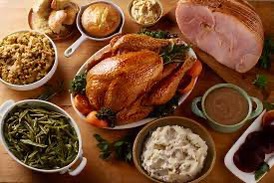 With Thanksgiving right around the corner, there are a multitude of preparations and traditions to be fulfilled. Thanksgiving is a national holiday celebrated on the fourth Thursday of November. It honors a bountiful harvest, and serves as an opportunity to show our gratitude for the blessings in our lives. It can be hard to balance all the duties of a holiday like Thanksgiving. However, this set of activities may help! 
Cook Lots of Meals One of the main components of Thanksgiving, of course, comes down to one thing: food. Traditionally, turkey is the main course of a Thanksgiving meal. Get yours fast and cook one yourself! In addition to this, many other popular Thanksgiving foods include but are not limited to: ham, stuffing, mashed potatoes and gravy, dinner rolls, cranberry sauce, green bean casserole, pies, etc. 
Clean While this may not sound very amusing, it's a good idea to clean your room/house. Lots of Thanksgiving's are spent with numerous people, so having your house cleaned is appropriate when guests come over. In addition to this, you'll be caught up cleaning for the rest of the break, and cleaning once Christmas time comes around will be ten times easier. Put some music on and get to work!
Spend Time With Your Family/Friends Thanksgiving is a perfect opportunity to get family and friends together for a day of thankfulness. Some of our family members live far away, but Thanksgiving provides a perfect opportunity to see them again. Another great way to celebrate Thanksgiving is with a "Friendsgiving." This is exactly what it sounds like: a Thanksgiving spent with your friends! 
Participate in a Race Throughout Thanksgiving, there are many places around to look for a 5K or 10K race to participate in. Many of these are called "Turkey Trots" and it's a great way to start off the holiday season. If you have a competitive family, this is even better to bring them all along for the race!
Decorate for Christmas This may not be everyone's style, but if you're like me then your entire house has already been decorated. Decorating is fun for everyone, especially the Christmas tree. Everyone can show off their creativity and have a good time. 
  You could spend Thanksgiving with a set schedule implementing each of these activities. However, all that matters is that on Thanksgiving day you are grateful for all that you have in life.         
Donate to The Warrior Word
Your donation will support the student journalists of Sterling High School. Your contribution will allow us to purchase equipment and cover our annual website hosting costs.