What is publications doing now?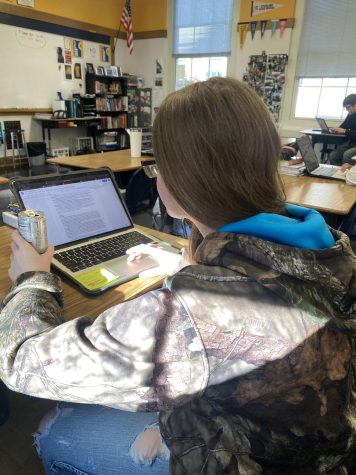 With the end of the year approaching, our publication class is hard at work finishing yearbook spreads and newspaper articles. This class is all about putting in hard work and dedication, in and out of school, to make sure everything that is seen is the best that it can be. Have you ever thought about joining this publications class, or wondered what they might be doing towards the end of the year? Here is an inside peek at what S.H.S. publications is doing right now. 
  The yearbook that is handed out every year is diligently worked on the year before. In order to have enough time, students are assigned a yearbook page right at the beginning of the year. Currently, this class just got some new spreads that need to be done within the month. In the next couple of weeks, they will be assigned to their spring sport page of the yearbook after filling out a survey about which one they want to do. 
  Whether it is with a partner or all by oneself, students work on more than one spread at a time. But no matter what, if they need help with their spreads they can always ask for help. 
  When asked who helps her the most, senior Sophia Rivera said, "Marisa Salmon has helped me the most. She's been in publications for three years. She is skilled in page layouts and giving directions."
  If you have ever read the S.H.S. newspaper, then you have seen the product of what a publications student has written. This class works on the newspaper three times a semester, but a lot of planning goes into each article. Each month, students brainstorm ideas that they could write about for their articles. When articles are finished, student editors read them over and submit them. 
  Senior Autum Flagg, who is currently working on the preview of farmapalooza article, says "I chose this article because I want to spread awareness on what farmapalooza is and so we can get people to go to it." 
  These students put many hours into the finished product. So next time you read the newspaper, or receive your yearbook, say thank you to a pub student because there is a lot of behind the scenes work that goes into it. 
Donate to The Warrior Word
Your donation will support the student journalists of Sterling High School. Your contribution will allow us to purchase equipment and cover our annual website hosting costs.